Kedarnath - Holiest of Holy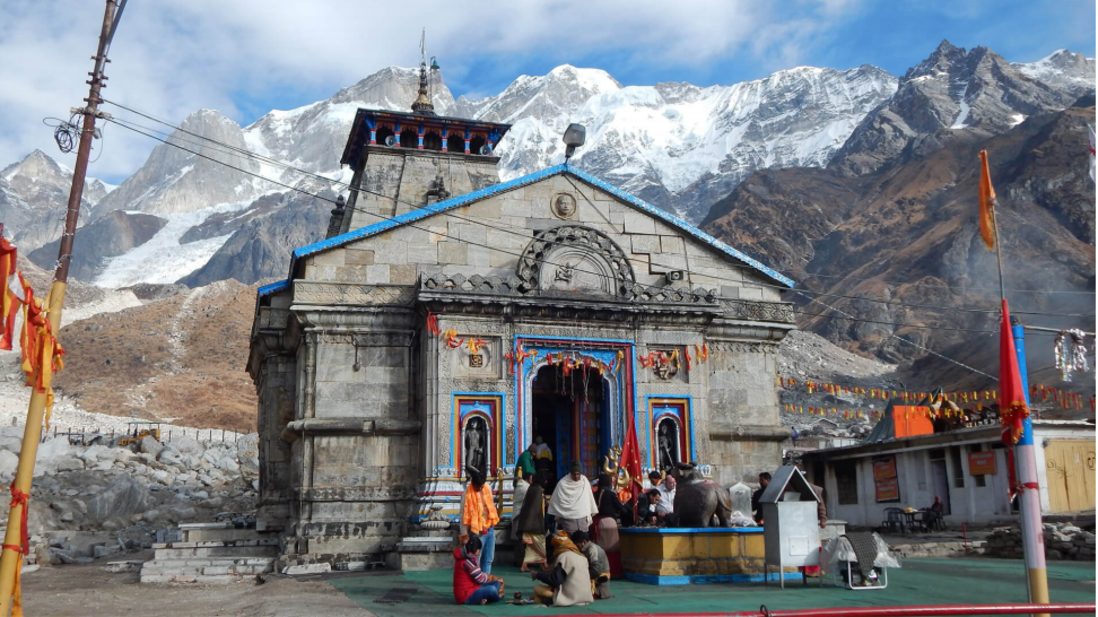 Introduction:
Kedarnath Mandir is a Hindu temple dedicated to Lord Shiva, settled on the Garhwal Himalayan range near the very origin of the river Mandakini in Uttarakhand. The temple is open only between the end of April to October due to extreme weather conditions during winter. The opening and closing is done in accordance with the Hindu calendar; opening on the day of Akshay Tritiya and closing on the day of Kartik Poornima (the autumn full moon). The Vigrahas (deities)are brought down to the temple of Ukhimath for the period of closure.

Here Lord Shiva is worshipped as Kedarnath, the lord of Kedar Khand, from where the place gets its name. According to the ancient Hindu legend the temple was built by the Pandavas who were supposed to have pleased Shiva by doing penance in Kedarnath.

Kedarnath is one of the twelve Jyotirlingas, the holiest Hindu shrines of Shiva and it is one of the 275 Padal Petra Sthalams explicated in Tevram and is one of the four major sites in India's Chota Char Dham pilgrimage of Northern Himalayas. This temple is the highest among all the Jyotirlingas in India.
How to Reach?

The Kedarnath temple is not directly accessible by road. There are 14 kilometres (10 mi) uphill trek from Gaurikund, which is the last motorable point. Pony and Manchan (Carry Baskets) services are alternatives for people who intend to take the arduous route. Of late Helicopters cut the transit time, by flying from many helipads starting from Guptkashi.

For those intending to do the trek, there is a free photo and biometric procedure which needs to be completed before starting the walk. There are designated offices which help you go through this process at Rishikesh, Phata, Sitapur & Sonprayag. A government-issued photo ID is a must for the registration process.

By Road
Private cars, taxis and buses are allowed only till Sonprayag Checkpost. From Sonprayag all visitors have to hire government regulated taxis which charge Rs.20/- per person or Rs. 250/- to Rs. 300/- per vehicle.
During peak periods parking at Sonprayag is a challenge and hence be prepared to walk from your vehicle to the point where the taxis to Gaurikund start. Sonprayag is well connected by a motorable road; National Highway 109 which connects it to Rudraprayag. While the roads are metalled, rains and heavy flowing streams tend to crack road surfaces regularly, and spots of the uneven surface is an accepted fact across this belt. Added to it off, late road widening work can cause unplanned delays. Buses and Taxis to Sonprayag are easily available from major tourist attractions of Uttarakhand like Dehradun, Rishikesh, Haridwar, and Delhi ISBT at Kashmiri Gate.
By Train
The nearest railway station to Kedarnath is situated in Rishikesh. Rishikesh railway station is located at 216 kilometres before Kedarnath on NH58. Rishikesh is well connected by railway networks with major destinations of India. Taxis and buses are easily available from Rishikesh to Sonprayag which makes Kedarnath conveniently accessible.
www.irctc.co.in
By Flight
Jolly Grant Airport is the nearest Airport to Kedarnath and it is situated at a distance of 238 kilometres. The airport is well connected to key airports of India with daily flights. Taxis being readily available at the airport makes it very convenient to reach Sonprayag.
By Helicopter

Chartered Helicopters are available from Dehradun itself. There are shorter distance shuttle helicopters which operate a 17 minute run from Guptkashi. Of late Helicopters cut the transit time, by flying, from many helipads starting from Guptkashi.During the peak seasons, advance booking with helicopter operators is a must to ensure that your trip goes as per plan, albeit weather could stay play truant at many an instance. A single return trip costs Rs. 7,200/-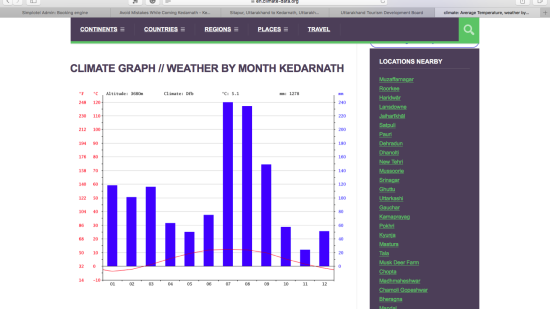 The best time to visit is September - October even though the temple opens its doors from April to November. Peak arrivals are in May and June as this is the time for summer vacation in most parts in of India. July and August see heavy rains and drops in traffic. As the rains fade and the temperatures start dropping in October, the traffic to these places also reduces and it becomes far more enjoyable journey.
Additional things to do
Pilgrimage being the core motive of visitors to Kedarnath the idea can be further extended, as the region is the fountainhead for Hinduism. There is a Chota Char Dham pilgrimage which helps pilgrims visit the four pious spots of Hinduism in this region, namely Badrinath, Kedarnath, Gangotri and Yamunotri.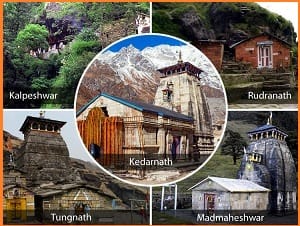 Image source: Atlas Travel

There is also the Paanch Kedar tour which pilgrims cover as a part of their visit to the five temples of Lord Shiva.
Where to stay?

The best place to stay is at Kedar Camp Resorts as it provides the amenities for a comfortable stay, an adventure of staying in luxury tents as well as a quick access to the helipads to Kedarnath. Helipads operated by Arrow, Aryan and Heritage are under 10 minutes drive from the resort.